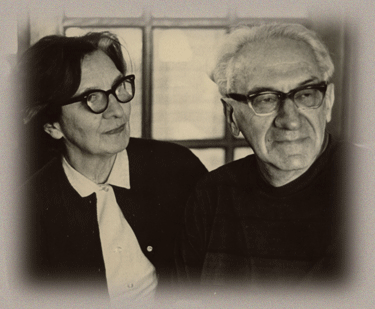 Elis Velikovsky and Immanuel Velikovsky
Elis Velikovsky studied sculpture as a student of Oronzio Maldarelli at Columbia University in the 1940s and went on to have her work exhibited at the Metropolitan Museum of Art, the Whitney Museum and the Pennsylvania Academy of Fine Arts, among other prestigious venues. She worked in stone primarily, but also in lead and in wood.
Elis Velikovsky received the First Prize in Sculpture for the "Head", hammered in lead, at the Annual New Jersey State Exhibition that was held at the Montclair Museum in December 1951. Her stone carving "Caryatid" was chosen and reproduced on the opening page of the Metropolitan Museum of Art illustrated catalogue.